ACUVUE® Brand Contact Lenses That Actively Reduce and Filter Bright Light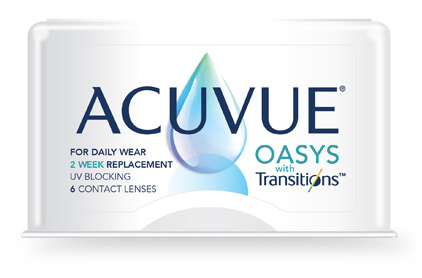 How often do you find yourself squinting throughout the day? Whether walking outdoors into sunlight or spending long days at your desk, you may not even realize you're doing it. Sensitivity to changing light conditions can be bothersome to our eyes and visioni.

Coming next year is a new ACUVUE® Brand contact lens that is receiving significant recognition for providing a solution to this troubling issue: actively reducing and filtering bright light*,ii to provide all-day soothing vision.**,iii
Align left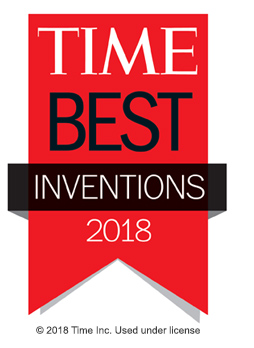 Just named one of TIME's 'Best Inventions of 2018,' ACUVUE® OASYS with Transitions™ Light Intelligent Technology™ is revolutionizing the vision care experience.

These contact lenses, which will be available in the U.S. in the first half of 2019, quickly and seamlessly adjust from clear to dark and back in response to changing light conditions that wearers encounter throughout their day.iv They also reduce exposure to bright light indoors and out, filtering blue light and blocking harmful UV rays.†‡ iv,v
ACUVUE® OASYS with Transitions™ are ideal for active, modern lifestyles, offering the highest level of UV protection in contact lenses and helping your eyes adjust to changing light better than they would on their own.iii, iv
Align left
The intelligent light-responsive contact lenses are the first – and only – of their kindvi, specifically designed to provide patient benefits while minimizing the change to the appearance of the eye.iv,vii
Align left
More than a decade of research and collaboration with Transitions Optical, the leading provider of smart adaptive lenses, went into to bringing this technology to ACUVUE® contact lenses – now, culminating with being named one of the 'Best Inventions of 2018.' Now, that's visionary.
For exclusive ACUVUE® OASYS with Transitions™ updates, visit www.acuvue.com/transitions.
Lenses are not a replacement for sunglasses.
ACUVUE® Brand Contact Lenses are available by prescription only for vision correction. An eye care professional will determine whether contact lenses are right for you. Although rare, serious eye problems can develop while wearing contact lenses. To help avoid these problems, follow the wear and replacement schedule and the lens care instructions provided by your eye doctor. Do not wear contact lenses if you have an eye infection, or experience eye discomfort, excessive tearing, vision changes, redness or other eye problems. If one of these conditions occurs, remove the lens and contact your eye doctor immediately. For more information on proper wear, care and safety, talk to your eye care professional, call 1-800-843-2020, or download the Patient Instruction Guide.
†Helps protect against transmission of harmful UV radiation to the cornea and into the eye.
‡WARNING: UV-absorbing contact lenses are NOT substitutes for protective UV-absorbing eyewear such as UV-absorbing goggles or sunglasses because they do not completely cover the eye and surrounding area. You should continue to use UV-absorbing eyewear as directed. NOTE: Long-term exposure to UV radiation is one of the risk factors associated with cataracts. Exposure is based on a number of factors such as environmental conditions (altitude, geography, cloud cover) and personal factors (extent and nature of outdoor activities). UV-blocking contact lenses help provide protection against harmful UV radiation. However, clinical studies have not been done to demonstrate that wearing UV-blocking contact lenses reduces the risk of developing cataracts or other eye disorders. Consult your eye care practitioner for more information.
ACUVUE® OASYS with Transitions™ is a registered trademark of Johnson & Johnson Vision Care, Inc. Transitions is a registered trademark, the Transitions logo, Transitions Light Intelligent Technology and Transitions Light Intelligent Lenses are trademarks of Transitions Optical, Inc. used under license by Transitions Optical Limited.
©Johnson & Johnson Vision Care, Inc. 2018.
© 2018 Time Inc. Used under license
Third-party trademarks used herein are trademarks of their respective owners.
i JJV Data on File 2018: Consumer and ECP Online Surveys, data collected September 2018.
* Defined as changing high intensity / bright light found both indoors and outdoors.
ii JJV Data on File 2018: Blaring Light Market Research
** Defined as comfortable vision under bright light conditions.
iii JJV Data on File 2018: JJV Data on File 2018: ACUVUE® OASYS with Transitions™ Objective Clinical
iv JJV Data on File 2018: Definition of ACUVUE® OASYS with Transitions™
♦ Calculated per ISO-8980-3 for 380-460nm (Blue Light Hazard Function, B(λ))
v JJV Data on File 2018: Material Properties ACUVUE OASYS® Brand Contact Lenses with HYDRACLEAR® Plus and other reusable contact lenses
vi FDA Press Release: FDA clears first contact lens with light-adaptive technology
vii JJV Data on File 2018: senofilcon A with 1% Photosol® 7-1911 Product Specification
Align left