Focusing In On the Everyday Impact Of Bothersome Light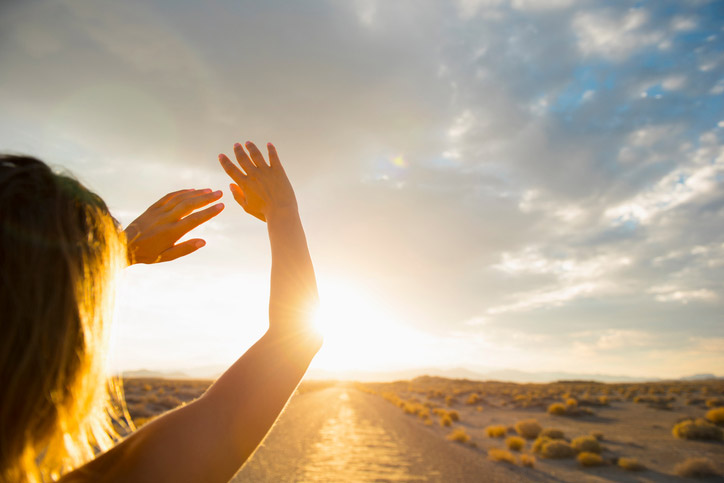 Light permeates our lives, adding vibrancy and dimension with the rise of the morning sun, flip of a light switch and flicker of a city street light. But, even though light can make our days brighter (figuratively and literally) it also has a dark side. When exposed to intense volumes of light both indoors and outdoors, it can hinder our ability to perceive, react and perform activities, turning light into something bothersome.
From situations like leaving a dark movie theater or even exposure to the flickering florescent bulbs of our offices, bothersome light is more prevalent than most people realize. In fact, according to a global survey conducted by Johnson & Johnson Vision, it impacts 8 in 10 people around the world on a given day and 40% feel they are exposed to more bright/harsh light than ever before.1
We experience and move through diverse environments throughout the day, so it's hard to tell when bothersome light will strike. The survey also found that people reported they are most commonly bothered by light while driving (67%) and over half are bothered by light in environments where they were exposed to lighting changes.1
Bothersome light not only has a physical impact, but an emotional impact as well with 65% saying their eyes feel stressed after experiencing bright/harsh light, resulting in a negative impact on their overall productivity.1
Align left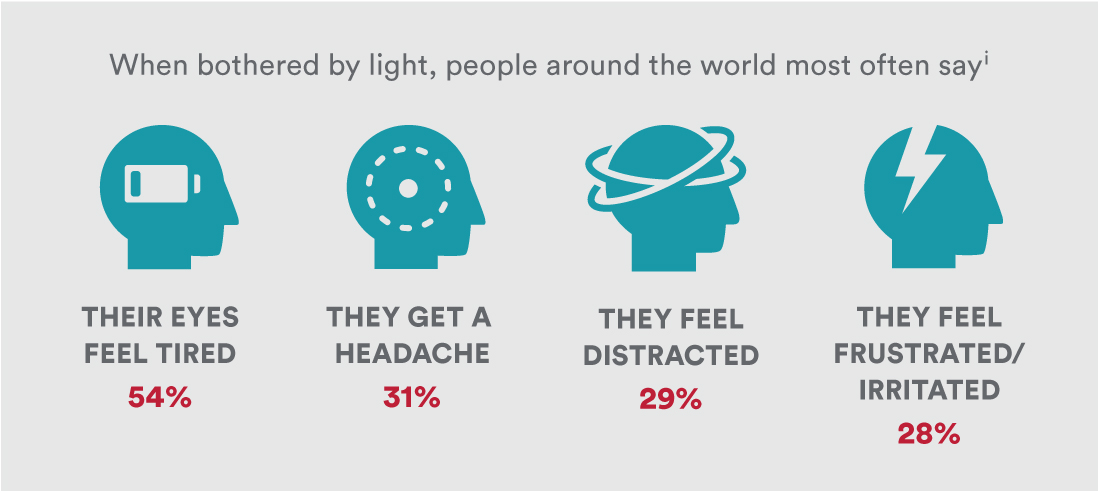 Of those bothered daily by light, almost all (96%) admit to adopting compensating behaviors instead of addressing the problem directly.1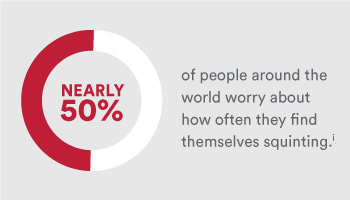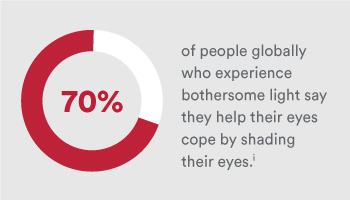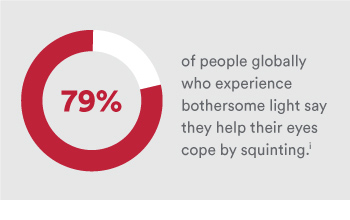 Despite the prevalence of bothersome light, these coping mechanisms have become part of everyday life, leading few people to discuss their concerns with an eye care professional.
If you're among the many people who wish your eyes could adjust to different light conditions as quickly as your busy life, you may benefit from Johnson & Johnson Vision's first-of-its kind contact lens that seamlessly adapts to changing light to provide all-day soothing vision.*,2
To learn more, please visit the ACUVUE® OASYS with TRANSITIONS™ website or follow ACUVUE® on Instagram and Twitter.
Survey Methodology
Johnson & Johnson Vision Care, Inc. and TRUE Global Intelligence™, the in-house research practice of FleishmanHillard, conducted a 10-minute online survey among 10,297 adults, 18 years of age and older, across 10 countries from 11 February through 15 April 2019, to explore the prevalence of light sensitivity among consumers. Quotas were set for age, race, and region within each of the 10 countries to ensure national representation. The margin of error is +/-1 percent at a 95% confidence level.
Important information for contact lens wearers:
ACUVUE® OASYS Contact Lenses with Transitions™ are available with and without vision correction. This means that even people who do not require vision correction can benefit from the light-adaptive effects of these contact lenses. An eye doctor will determine whether these contact lenses are right for you. Although rare, serious eye problems can develop while wearing while wearing contact lenses. To help avoid these problems, follow the wear and replacement schedule and the lens are instructions provided by your eye doctor. Do not wear contact lenses if you have an eye infection, or experience eye discomfort, excessive tearing, vision changes, redness or other eye problems. If one of these conditions occurs, remove the lens and contact your eye doctor immediately. You should never share your lenses with anyone else. For more information on proper wear, care and safety, talk to your eye doctor and ask for a Patient Instruction Guide, call 1-800-843-2020, or visit www.acuvue.com.
Align left
1 JJV and FH TRUE Global Intelligence™ 2019 US Survey
*Ability to see comfortably in bright light
2 JJV Data on File 2018. ACUVUE OASYS with Transitions Objective Clinical Evaluation of two silicone hydrogel reusable contact lenses. Non-dispensing evaluation, n=58 soft CL wearers in the US​
Align left