JOHNSON & JOHNSON VISION LAUNCHES ACUVUE ABILITI™ - A NEW BRAND OF MYOPIA MANAGEMENT SOLUTIONS TO HELP CONTROL CHILDREN'S MYOPIA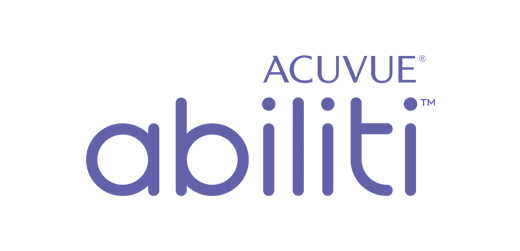 Abiliti™ aims to give children clearer vision today for better eye health tomorrow through innovative and scientifically-proven solutions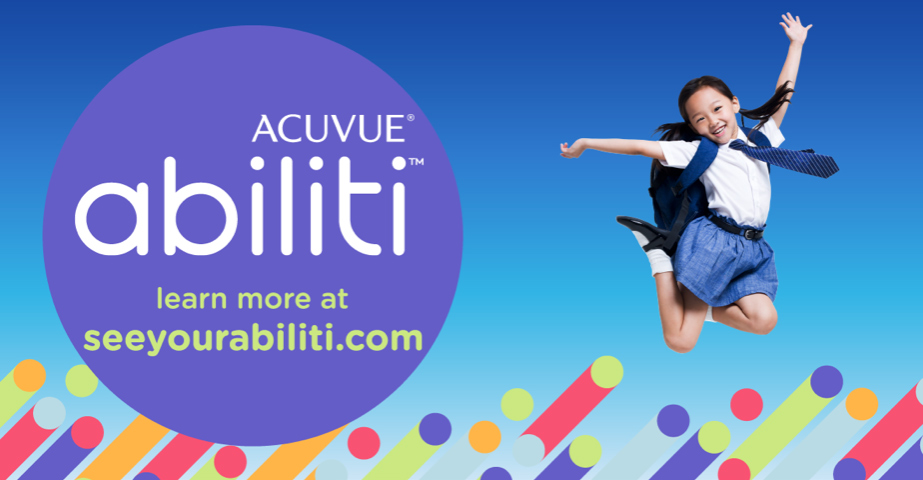 SINGAPORE, 20 January 2022 – Johnson & Johnson Vision, a global leader in eye health and part of the Johnson & Johnson Medical Devices Companies1, today announced the launch of ACUVUE Abiliti™ in Singapore, a powerful new comprehensive approach for myopia management. Singapore is the first market in Asia Pacific to launch the Abiliti™ Overnight Therapeutic Lenses for Myopia Management – an orthokeratology (ortho-K) lens with the CE mark for myopia control. Launch in the rest of the region will soon follow.
The launch of Abiliti™ marks a key milestone in Johnson & Johnson Vision's commitment to change the trajectory of myopia, a growing epidemic that is the biggest eye health threat of the 21st century.2 In Singapore, eight out of 10 children are likely to become myopic by Primary Six, leading to one of the highest prevalences of myopia in the world3. In a recent survey by Johnson & Johnson4, a proportion of Singaporean parents reported that at least 75.9% of them had children who were diagnosed with myopia before they were nine years old. Yet, many parents are unaware of the implications myopia can have on their children's long-term eye health and abilities.
Young children who develop myopia before the age of 12 are more at risk of developing high myopia5, leading to increased risks of sight-threatening diseases such as myopic macular degeneration6 and retinal detachment7. Myopia also progresses more quickly in children8, which is why parents need to take action early to manage their children's myopia and protect their sight and eye health.
"Myopia is sometimes called "nearsightedness", but most people are unaware that it is so much more. It causes irreversible elongation of the eye and increases the risks of future sight-threatening complications. Yet, it can be managed with proper treatment", said Vaibhav Saran, Area Vice President for Johnson & Johnson Vision in Asia Pacific. "As an eye health leader, Johnson & Johnson Vision believes in leading with science and has made significant investments in research to understand and combat myopia progression. Early diagnosis and treatment of myopia are crucial to protect children's lifetime eye health. Thus, we aspire to arm parents and our professional partners with new therapies that can effectively manage myopia progression in young children once signs of myopia appear."
Among the first in the industry to recognise the impact of myopia and the importance of myopia management, Johnson & Johnson Vision launched the Abiliti™ brand to address the prevalence and progression of myopia in children. Abiliti™ is a holistic suite of myopia management solutions designed to fit seamlessly into the lifestyle of parents and children. This includes the Abiliti™ Overnight Lens – an ortho-K therapeutic lens with the CE mark for myopia control, allowing children to experience a spectacle free-day, and the SeeAbiliti™ digital companion app to address individual kids' needs as they grow, with more offerings to come. Abiliti™ Overnight Lenses have been successfully prescribed for controlling the progression of myopia in children as young as six years of age.
Abiliti™ includes a range of products and solutions for young myopic patients, parents and eye care professionals across three main pillars:
See Your Abiliti™: A suite of therapeutic products for young patients with myopia and their parents, including the Abiliti™ Overnight ortho-K therapeutic lenses and the SeeAbiliti™ app.
Master Your Abiliti™: Unparalleled support to eye care providers through personalised professional training and centers of clinical excellence, including a lens-fitting software called FitAbiliti™.
Share Your Abiliti™: Increased access to eye care through an ongoing partnership with Sight for Kids®, providing free comprehensive eye exams for children in need with each annual purchase of an Abiliti™ product.
Through the Sight for Kids® initiative, Johnson & Johnson Vision aims to give back to global communities that the company operates in, while addressing the growing epidemic and combating the progression of myopia in Singapore.
Join Johnson & Johnson Vision and change the trajectory of the global myopia epidemic. Give your children clearer vision today, for better eye health tomorrow. Download the SeeAbiliti™ app and go to any of Johnson & Johnson Vision's partner optometrists here for a comprehensive eye health check and find out more about how Abiliti™ can keep your kids unstoppable!
For more information, visit https://www.seeyourabiliti.com/sg/
--
About Johnson & Johnson Vision*
At Johnson & Johnson Vision*, part of Johnson & Johnson Medical Devices Companies, we have a bold ambition: to change the trajectory of eye health worldwide. Through our operating companies, we deliver innovation that enables eye care professionals to create better outcomes for patients throughout their lives, with products and technologies that address unmet needs including refractive error, cataracts, and dry eye. In communities with greatest need, we work in collaboration to expand access to quality eye care, and we are committed to helping people see better, connect better, live better. Visit us at jjvision.com, follow @JNJVision on Twitter, Johnson & Johnson Vision on LinkedIn, and @JNJVision on Facebook.
About Johnson & Johnson Medical Devices Companies
At Johnson & Johnson Medical Devices Companies, we are helping people live their best lives. Building on more than a century of expertise, we tackle pressing healthcare challenges, and take bold steps that lead to new standards of care while improving people's healthcare experiences. In surgery, orthopaedics, vision and interventional solutions, we are helping to save lives and paving the way to a healthier future for everyone, everywhere.
About Abiliti ™ Overnight Therapeutic Lenses
Abiliti™ Overnight Therapeutic Lenses are CE-marked overnight ortho-K therapeutic lens that is scientifically proven to reduce the axial elongation by 0.28mm on average over 2 years.*9,10,11,12 Worn overnight, these lenses temporarily reshape the cornea13,14,15,16, and allow patients to see clearly the next day after being worn overnight.**17 Each lens is specifically designed to fit the unique shape of each patient's unique corneal shape and prescription.18 Abiliti™ Overnight Lenses can help manage the progression of your child's myopia.
*Compared to single vision spectacles. **Reducing refractive error up to 4.00D and up to 2.50D of astigmatism
About Sight For Kids®
Since 2002, Lions Clubs International Foundation (LCIF) has partnered with Johnson & Johnson Vision to implement the largest-known, school-based eye health programme, Sight For Kids. The programme mobilises Lions and eye care professionals to provide comprehensive eye health services in low-income schools, currently in five countries in Asia, Africa, Europe and the United States. The programme provides teachers with training to deliver eye health education, perform a visual acuity test, and screen for common eye conditions. Students identified with potential vision impairment or eye ailments are referred to healthcare providers for evaluation.
©Johnson & Johnson Vision Care Inc., 2021. All rights reserved.
1 The Johnson & Johnson Medical Devices Companies comprise the surgery, orthopaedics, vision and interventional solutions businesses within Johnson & Johnson's Medical Devices segment.
2 Johnson & Johson Vision data on file
3 The Straits Times. Don't be short-sighted about myopia in children. Available at https://www.snec.com.sg/news/patient-care/Don%E2%80%99t-be-short-sighted-about-myopia-in-children. Last accessed December 2021.
4 J&J internal survey study data, June 2021
5 Hu Y et al. Association of Age at Myopia Onset With Risk of High Myopia in Adulthood in a 12-Year Follow-up of a Chinese Cohort. JAMA Ophthalmol. 2020;138:1–6.
6 Ohno-Matsui K, Lai TY, Lai CC, Cheung CM. Updates of Pathologic Myopia. Prog Retin Eye Res 2016;52:156-87.
7 Mitry D, Charteris DG, Fleck BW et al. The Epidemiology of Rhegmatogenous Retinal Detachment: Geographical Variation and Clinical Associations. Br J Ophthalmol 2010;94:678-84.
8 Chua SY et al. Age of Onset of Myopia Predicts Risk of High Myopia in Later Childhood in Myopic Singapore Children. Opthal Physiol Opt 2016;36:388-94
9 Cho P, Cheung SW. Retardation of myopia in Orthokeratology (ROMIO) study: a 2-year randomized clinical trial. Invest Ophthalmol Vis Sci [Internet]. 2012/09/13. 2012;53(11):7077– 85.
10 Santodomingo-Rubido J, Villa-Collar C, Gilmartin B, Gutiérrez- Ortega R. Myopia control with orthokeratology contact lens in Spain: Refractive and biometric changes. Invest Ophthalmol Vis Sci. 2012;53(8).
11 Chen C, Cheung SW, Cho P. Myopia control using toric orthokeratology (TO-SEE study). Invest Ophthalmol Vis Sci [Internet]. 2013/09/05. 2013;54(10):6510–7.
12 Walline JJ, Robboy MW, Hilmantel G, Tarver ME, Afshari NA, Dhaliwal DK, Morse CL, Quinn CJ, Repka MX, Eydelman MB. Food and Drug Administration, American Academy of Ophthalmology, American Academy of Optometry, American Association for Pediatric Ophthalmology and Strabismus, American Optometric Association, American Society of Cataract and Refractive Surgery, and Contact Lens Association of Ophthalmologists Co- Sponsored Workshop: Controlling the Progression of Myopia: Contact Lens and Future Medical Devices. Eye Contact Lens.
13 Santodomingo-Rubido J, Villa-Collar C, Gilmartin B, Gutiérrez- Ortega R. Short-term changes in ocular biometry and refraction after discontinuation of long-term orthokeratology. Eye Contact Lens. 2014;40(2).
14 Cho P, Cheung SW. Discontinuation of orthokeratology on eyeball elongation (DOEE). Cont Lens Anterior Eye [Internet]. 2017/01/01. 2017;40(2):82–7.
15 Lau JK, Vincent SJ, Cheung SW, Cho P. The influence of orthokeratology compression factor on ocular higher-order aberrations. Clin Exp Optom. 2020 Jan; 103(1):123-128
16 Wan K, Lau JK kit, Cheung SW, Cho P. Refractive and corneal responses of young myopic children to short-term orthokeratology treatment with different compression factors. Contact Lens Anterior Eye. 2020;43(1):65-72.
17 Data on File 2021. Menicon CE technical file.
18 Data on File 2021 Menicon Design History file.