Galvanizing a movement to protect our most precious sense, health, and planet.
Align left
style_big
Johnson & Johnson is a global community of people blending heart, science, and ingenuity to profoundly change the trajectory of health for humanity.
Anchored in Our Credo, we are called to put the well-being of the people we serve first. At Johnson & Johnson Vision, we embrace that responsibility – that opportunity – as our Vision for Good.
Align left
Good for Communities
Elevating eye health awareness, providing access to care, and strengthening the communities in which we live and work.
Align left
Good for Teammates
Creating an environment for our employees to achieve their full potential.
Align left
Good for the Planet
Minimizing our impact on the planet while we change the trajectory of eye health.
Align left
Vision for Good Impact Report
Message from our Company Group Chairman
Align left
Shlomi Nachman, Company Group Chairman, CSS and Johnson & Johnson Vision, discusses our latest impact report, recognizing the good we've witnessed in the past year and way forward for Johnson & Johnson Vision.
Align left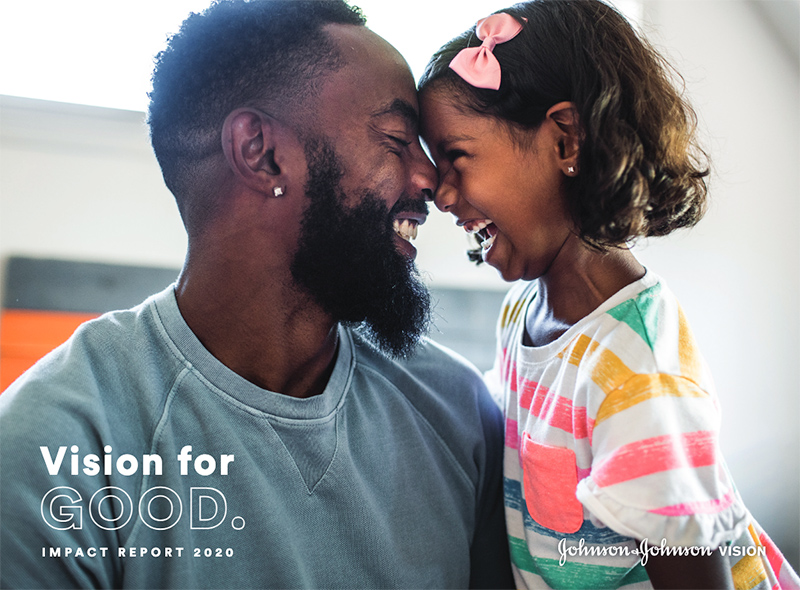 style_regular
Regular
Our Vision for Good report shares the story of our collective corporate social responsibility efforts around the globe. Our people, expertise, and global reach matter: Being a part of the world's largest and most broadly based healthcare company wouldn't mean much if we didn't strive for global change.
Project by project, person by person, we're committed to sharing our time, talents, and treasure to change the trajectory of eye health – to helping people see better, connect better, live better.
Align left
Supporting access to eye health and care in communities around the world.
Align left
style_big
We consider it a privilege to bring eye health care to people worldwide through our two, global signature charity partners, Lions Clubs International Foundation and Himalayan Cataract Project.
Together, we're helping kids grow, play, and learn; and adults fully experience the lives they've built, freeing them from needless blindness.
Align left
Mobilizing eye care professionals and volunteers to provide eye health services for children through Sight For Kids, a program co-founded by Johnson & Johnson Vision and Lions Clubs International Foundation.
Align center
style_medium_alt
Since 2002, Lions Clubs International Foundation and Johnson & Johnson Vision have partnered to implement Sight For Kids, the largest-known, school-based eye health program. Reaching over 3 million children annually, Sight For Kids provides comprehensive eye health services to students in low-income schools.
Since its inception, the Sight For Kids program has engaged more than 190,000 teachers, visually screened ~37 million students, provided ~500,000 pairs of eyeglasses to children in need, and helped 575,000 students receive additional treatments and surgeries from eye care professionals.
Align left
Working to eliminate preventable and curable blindness in under-resourced communities through support of Himalayan Cataract Project
Align center
style_medium_alt
Co-founder Dr. Sanduk Ruit, born in Nepal, educated in India, together with American ophthalmologist, Dr. Geoff Tabin, recognized the unmet eye health need in the Himalayas and made a vow in 1995 to eliminate preventable and treatable blindness.
Today, the Himalayan Cataract Project and its extensive network of partners work across South Asia and Sub-Saharan Africa to cure needless blindness with the highest quality care at the lowest cost, provide clinical training, and establish ophthalmic infrastructures. As a result of their work across the last 25 years, more than 12.5 million people in over 20 countries have had basic eye care treatment, 1 million had their sight restored, 18,000 eye care professionals were trained, and 4 eye care hospitals and training institutes were established. Needless blindness is one public health problem we can win.
Align left
Doing a world of good for local communities.
Align left
From elevating eye health awareness, to increasing access to care, to strengthening the neighborhoods in which we live and work – we strive to support healthy communities with heart, coming together for the benefit of all.
Align left
Through our community contributions and outreach, we empower nonprofit organizations to help people see better, connect better, live better, supporting programs related to:
Align center
style_medium_alt

style_centered
About our Charitable Contributions
align_left
General Requirements
Organization must be classified by the United States Internal Revenue Service (IRS) as a tax-exempt, 501(c)(3) charitable nonprofit
Contributions can only be considered for bona fide nonprofits with established track records of charitable assistance and reliable leadership
Total contribution requested must be less than 15% of nonprofit's annual operating budget
Review our Charitable Contributions FAQs for more application requirements and information

General Restrictions
Some limitations for which charitable contributions may not be considered include:
Requests for multi-year support (i.e., applicants may only request single-year funding)
Scholarships, loans, memorial funds, or endowments of any kind
Fellowships, research grants, or continuing education courses
Trips, memberships, or sponsorships (e.g., walks, runs, dinners, award ceremonies, conferences)
Infrastructure or capital requests (e.g., building campaigns or major renovations)
Individuals, political groups, fraternal organizations, athletic groups, or sectarian/religious organizations (that do not serve the public on a nondenominational basis)
Organizations requested by customers or government officials

Application Cycle
Online applications will be accepted through 11/5/2021, and reviewed by our Charitable Contributions Committee in accordance with information outlined in our Application Timelines.
Align left
Submitting a Charitable Contributions Application
align_left
Johnson & Johnson Vision provides two types of charitable contributions
Align left

style_regular
Regular
Cash Contributions

Johnson & Johnson Vision provides philanthropic contributions (to eligible organizations) to elevate eye health awareness, provide access to care, and strengthen the communities in which we live and work.
Align left
Medical Mission Trip Product Contributions
Johnson & Johnson Vision provides select surgical supplies (specific to cataract procedures) to physicians who volunteer their time and talent to serve in overseas medical missions.
Align left
At Johnson & Johnson Vision, we are committed to creating a healthier world.
Align center
style_big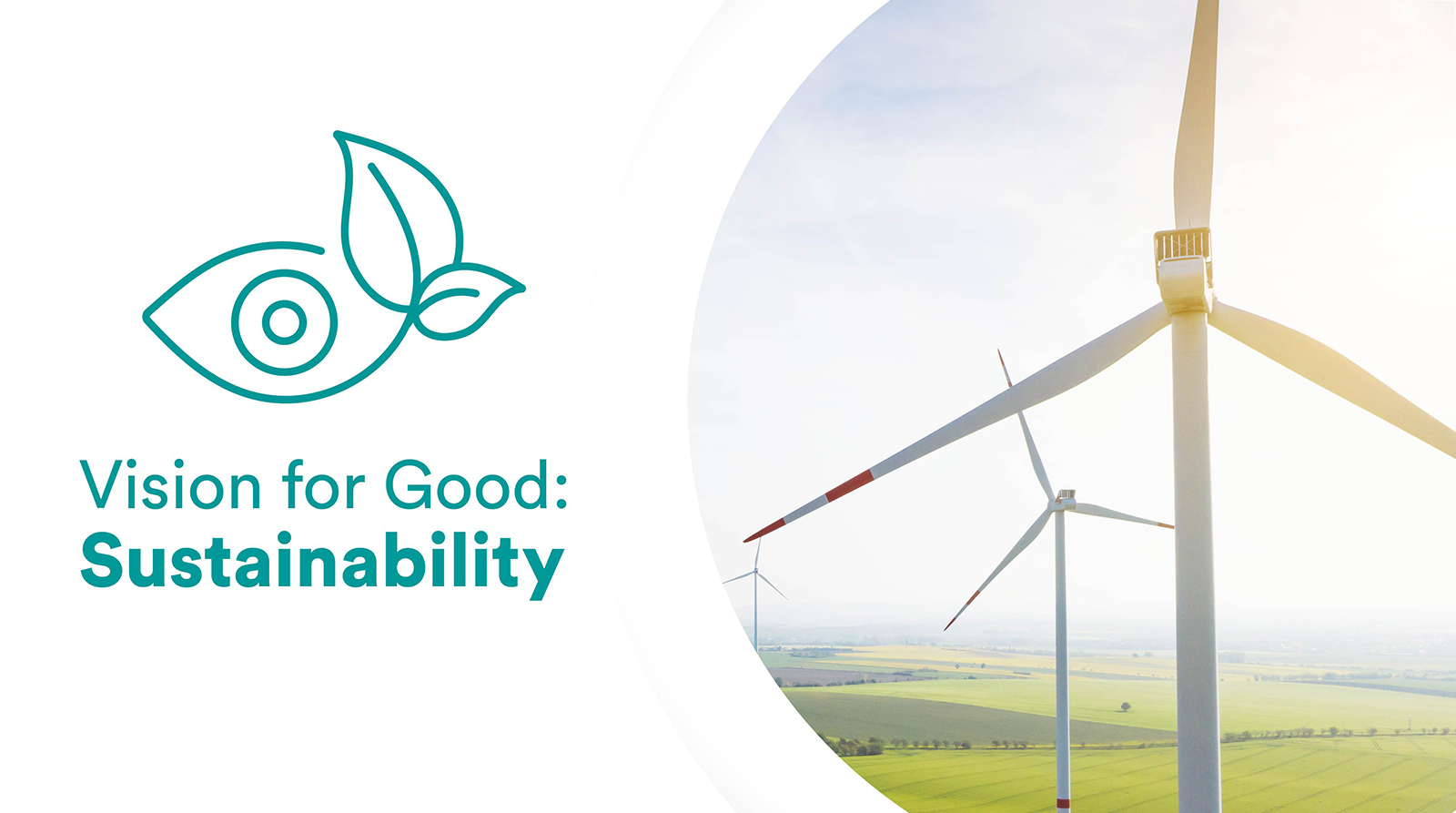 Align center
Wide
It takes a healthy planet to have healthy people and communities
Align left
style_big
As a global manufacturer, we recognize our role in helping to conserve and protect the planet. As a leader in the healthcare industry, we know human health is directly linked to the health of the earth. We are passionate about creating a sustainable future and appreciate our responsibility to take action. This means finding sustainable solutions to existing challenges, as well as tackling key issues that affect us all.
Align left
Our sustainability efforts are focused in three key areas:
Align left
Wide
Climate
Reducing our carbon footprint and driving renewable energy
Align left
Waste Reduction
Limiting our contribution to landfills through recycling and packaging optimization.
Align left
Natural Resources
Finding solutions that combat deforestation and protect and preserve water
Align left
Over the past ten years we have significantly reduced our carbon footprint and are on track to help Johnson & Johnson meet its global climate goal to achieve carbon neutrality by 2030. We have prioritized energy efficiency in our production technology, harnessing renewable energy with wind turbines and solar power across our manufacturing sites in the United States and in Europe.
In 2022, 100% of Johnson & Johnson Vision electricity will come from renewable sources. By further reducing secondary packaging for all our products, we have made significant headway in reducing the impact of shipping, distribution, energy consumption, and greenhouse gas emissions.

We are also passionate about reducing waste. Our efforts include full, life-cycle sustainable product development – this means a commitment to constantly innovate in how we produce, transport, and responsibly dispose of our products. Today, 90% of our unused raw materials are recycled on location at our ACUVUE® manufacturing sites, while we have made significant reductions in the paper used in our product packaging. As an example, our ACUVUE® OASYS 1-Day contact lens (90 Count) packaging has been reduced by 60% (for product manufactured in the U.S.).

Protecting our natural resources is similarly a commitment we take seriously. Whether that's combatting deforestation ― like sourcing our paper packaging from sustainable forestry products ― or reducing our water usage and ensuring our products don't end up in streams, rivers, and oceans.
Today we guarantee that all ACUVUE® contact lenses come in 100% sustainable paper packaging (box and leaflet) certified by either the Forest Stewardship Council (FSC), Programme for the Endorsement of Forest Certification (PEFC) or Sustainable Forestry Initiative (SFI). Since 2019, we also partnered with TerraCycle® in the U.K. to introduce the ACUVUE® Contact Lens recycling program. So far, we've recycled over 5.5 million contact lenses, lens cups, and foils together.

As we look to the future, we will continue to demand more from ourselves as we work towards our sustainable vision and creating a healthier planet.
Align left
Regular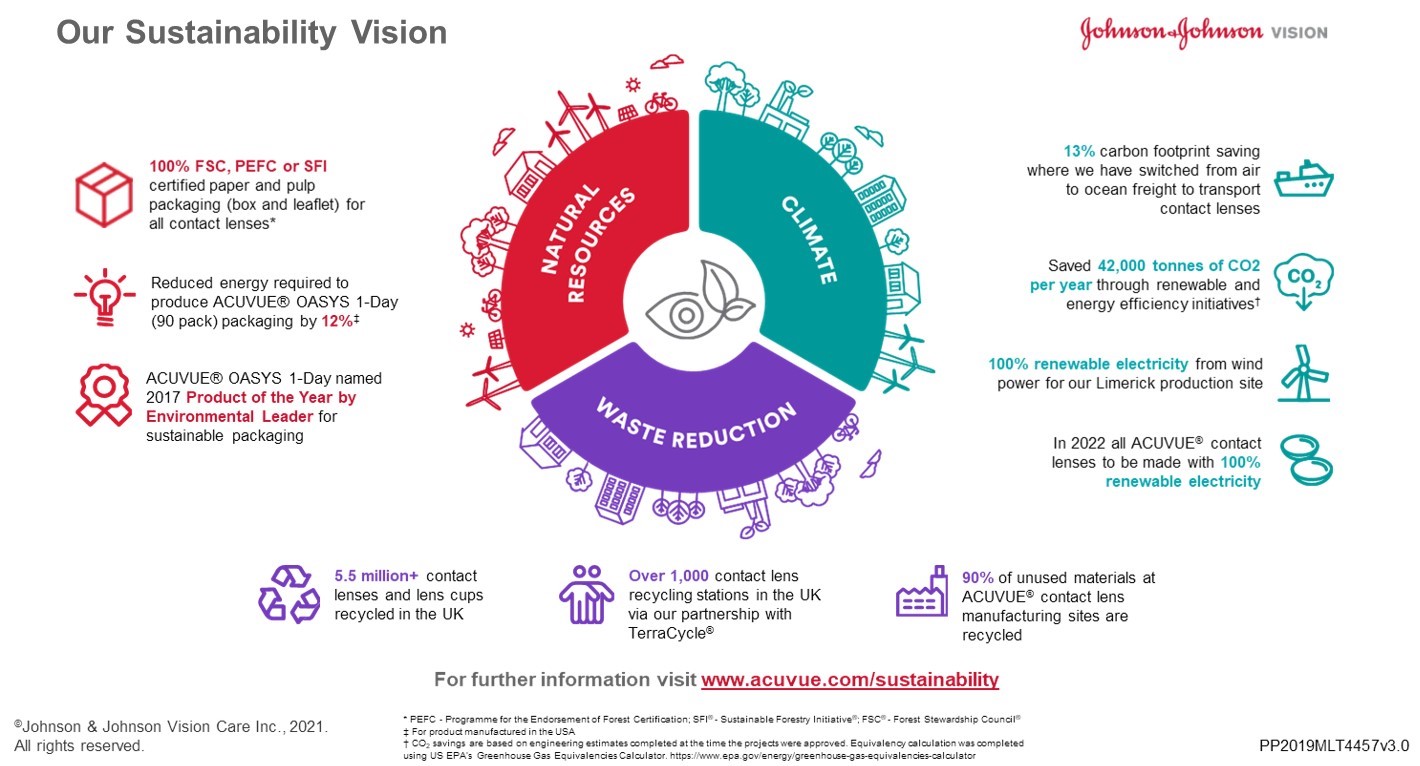 Align center
Wide
If you have questions about any of our Vision for Good efforts not addressed on this page, please email our corporate social responsibility team.
Align left
Regular