Here's how we care and give for eyesight and beyond.
Align left
style_big
We are guided by Johnson & Johnson's three pillars of corporate responsibility - improving global health, improving local communities, and ensuring the sustainability of our planet.
Align left
We focus globally on two signature efforts that preserve and restore sight.
Align center
style_big
Co-founder Sanduk Ruit MD, born in Nepal, educated in India, together with American ophthalmologist, Geoff Tabin MD, recognized the unmet eye health need in the Himalayas and made a vow in 1995 to eliminate preventable and treatable blindness. Never in their lifetimes did they believe they would change the arc of global blindness in Nepal; but they did just that.

Today, the Himalayan Cataract Project and its extensive network of partners work across South Asia and Sub-Saharan Africa to bring world-class eye care to the needlessly blind through quality care, clinical training and the establishment of first-rate ophthalmic infrastructures. As a result, over 739,000 people from 17 countries now see and live better. Johnson & Johnson Vision is a proud partner in this endeavor. Needless and preventable blindness is one public health problem we can win.
Align left
Did you know that 19 million children are visually impaired? Sight for Kids has provided school-based eye health education and vision screening to more than 25 million kids around the world with Lions Clubs International Foundation and local partners. Through Sight for Kids, we have provided access to eye health education and services, including free exams and eyeglasses, to approximately 500,000 children. Together, with our local partners, we aspire to double the number of children helped through Sight for Kids by 2021.
Align left
At Johnson & Johnson Vision, we are committed to creating a healthier world.
Align left
style_big
Through our global, proactive sustainability initiatives ― in concert with our employees and our external partners who will help us advance our initiatives ― we have a strong record of protecting the planet and are committed to further reducing our environmental impact.
Align right
Our focus is in three specific areas: climate, waste reduction and protection of natural resources.
Align center
style_medium_alt
We have significantly reduced our carbon footprint over the past ten years by prioritizing energy efficiency in our production technology and harnessing renewable energy with wind turbines and solar power in the U.S. and the United Kingdom. By further reducing secondary packaging for our all of products, we have made significant headway in reducing the impact of shipping, distribution, energy consumption and greenhouse gas emissions.
Align left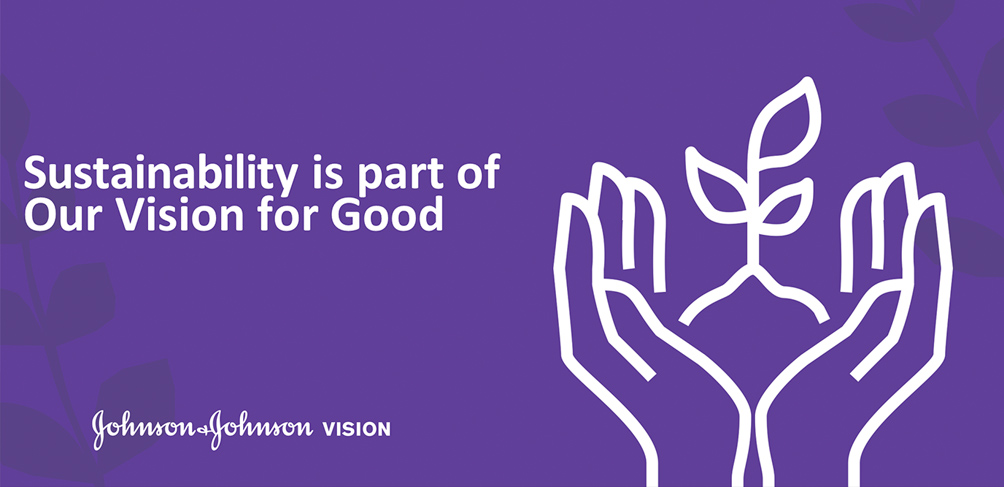 style_regular
Regular
Our efforts to reduce waste include full, life-cycle sustainable product development – from product formulation through manufacturing to consumer use and responsible disposal. Today 90% of our raw materials are recycled, but we continue to explore better solutions to drive single-use plastic recycling and packaging material optimization. Through employee-driven initiatives like Earthwards®, we ensure the continuous innovation of more sustainable products, guiding us toward our stewardship goals.
Protecting our natural resources is a commitment we take very seriously. With our teams, we seek solutions that combat deforestation ― like sourcing our paper packaging from sustainable forestry products ― and protect and preserve water, including ensuring our products don't end up in streams, rivers and oceans. Since 2005, we have been systematically reducing the amount of raw material we use and finding alternatives to landfill disposal for our waste streams. In 2019, we initiated the first nationwide free contact lens recycling program in the United Kingdom. In collaboration with TerraCycle, we enabled millions of contact lenses and packaging to be recycled as part of a trial program for contact lens wearers. We continue to investigate ways to bring our scientific expertise to bear on more permanent, sustainable solutions for the future.
Align left
Our global impact on climate, waste reduction and protecting natural resources will depend solely on how deeply we engage with and encourage our employees to make proactive and meaningful contributions. And, our work will continue to evolve as we listen to feedback from our customers and consumers.
Align left
style_medium
Johnson & Johnson Vision is committed to providing positive outcomes for our customers while reducing our footprint on the planet as we change the trajectory of global eye health.
Align left
We'll do this by continuing to focus on three key areas: climate, waste reduction, and protecting natural resources.
Align left
style_medium
Climate
Reducing our carbon footprint and driving renewable energy
Align left
Waste Reduction
Limiting our contribution to landfills through recycling and packaging optimization.
Align left
Natural Resources
Finding solutions that combat deforestation and protect and preserve water
Align left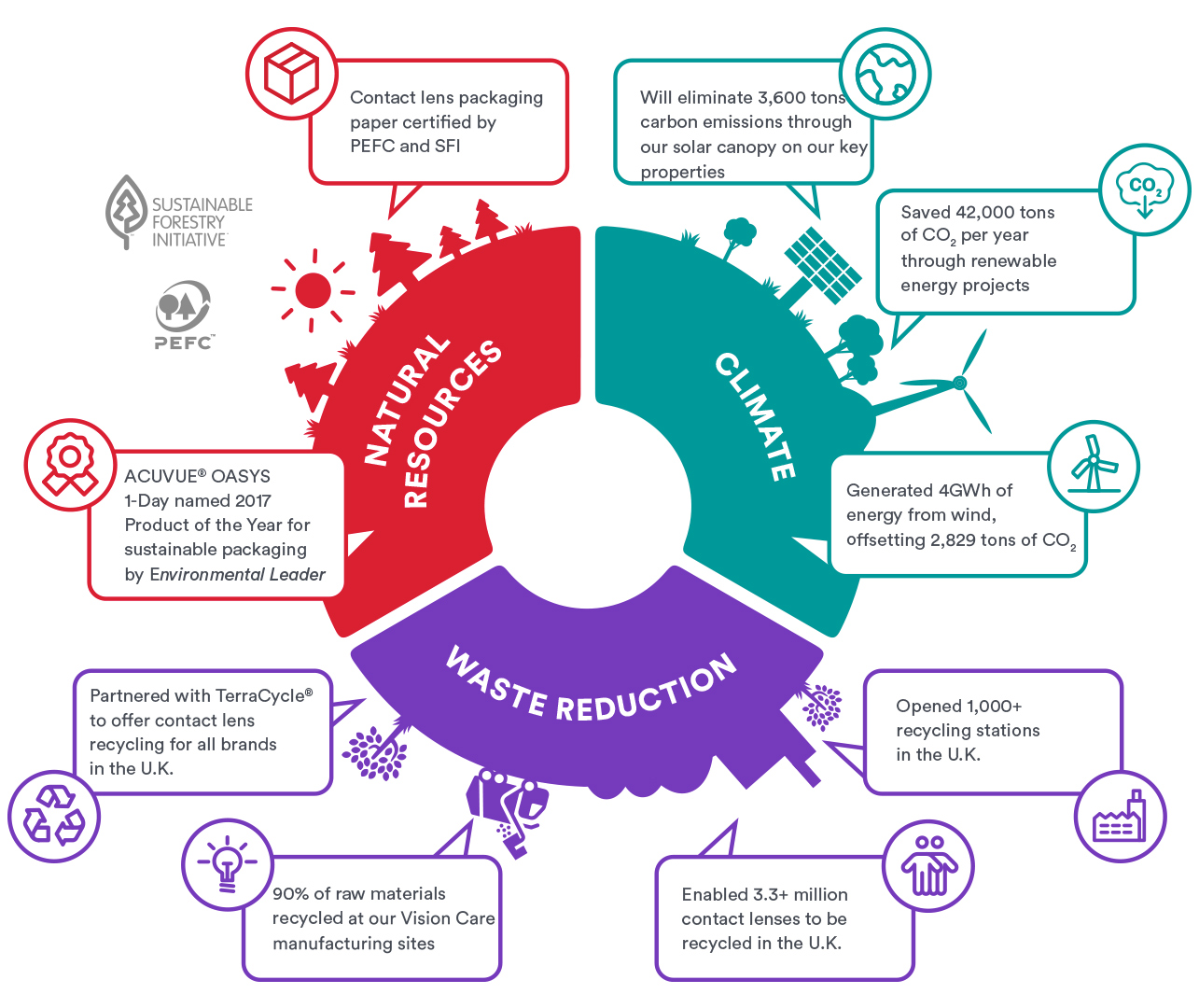 style_centered
Regular
Earthwards®, Johnson & Johnson Family of Companies' internal approach for developing innovative and more sustainable products, are given to the most sustainable products in our portfolio:
Align center
ACUVUE® OASYS 1-Day with HydraLuxe® (30 Lenses) new packaging utilizes 60% less paper, reducing energy consumption in the manufacturing process by 12%.
Align left
ACUVUE® OASYS 1-Day with HydraLuxe® (90 Lenses) new packaging reduces paper used by 60%, requiring 13% less energy to ship and distribute.
Align left
1-DAY ACUVUE® MOIST Brand Contact Lenses with LACREON® Technology reduced secondary packaging by 62%, using 100% SFI certified material.
Align left
Johnson & Johnson Vision is committed to promoting eye health and education in the global community.
Align left
Through our charitable contributions, we look to empower nonprofit organizations to help people see better – connect better – live better.
Align left
Our charitable contributions align with three strategic focuses
Align center
style_medium_alt

style_centered
We provide two types of charitable contributions
Align center
style_medium_alt

style_regular
Regular
Charitable Contributions Overview
align_left
General Requirements
Organization must be classified by the United States Internal Revenue Service (IRS) as a tax-exempt, 501(c)(3) charitable nonprofit
Contributions can only be considered for bona fide nonprofits with established track records of charitable assistance and reliable leadership
Total contribution requested must be less than 15% of nonprofit's annual operating budget
Review our Charitable Contributions FAQs for more application requirements and information
General Restrictions
Some limitations for which charitable contributions may not be considered include:
Requests for multi-year support (i.e., applicants may only request single-year funding)
Scholarships, loans, memorial funds, or endowments of any kind
Fellowships, research grants, or continuing education courses
Trips, memberships, or sponsorships (e.g., walks, runs, dinners, award ceremonies, conferences)
Infrastructure or capital requests (e.g., building campaigns or major renovations)
Individuals, political groups, fraternal organizations, athletic groups, or sectarian/religious organizations (that do not serve the public on a nondenominational basis)
Organizations requested by customers or government officials
Application Cycle
Online applications will be accepted through 11/5/2021, and reviewed by our Charitable Contributions Committee in accordance with information outlined in our Application Timelines.
Align left
Submitting Contributions Applications
align_left
Cash Contributions

Johnson & Johnson Vision provides philanthropic contributions (to eligible organizations) to elevate eye health awareness, provide access to care, and strengthen the communities in which we live and work.
Align left
Medical Mission Trip Product Contributions
Johnson & Johnson Vision provides select surgical supplies (specific to cataract procedures) to physicians who volunteer their time and professional skills to take part in overseas medical missions.
Align left
Community Impact Report
align_left
In 2019, Johnson & Johnson Vision published our inaugural community impact report, which details our collective charitable efforts around the globe. We are proud to share this report: Our Global Vision for Good, and the great work being done every day by our teammates and J&J Vision in service to others and our communities.
Align left
If you have questions around Johnson & Johnson Vision charitable contributions that are not addressed on this page please email our Corporate Social Responsibility team.
Align left