JOHNSON & JOHNSON VISION LAUNCHES ACUVUE® ABILITI™ BRAND IN HONG KONG TO ADDRESS GROWING PREVALENCE OF MYOPIA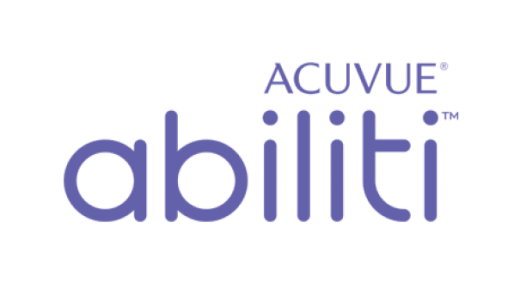 With an incidence rate of 88%, Hong Kong is among cities with the highest prevalence of myopia in the world1, and children are particularly vulnerable as myopia affects approximately 61.5% of children in Hong Kong at the age of 122
The Abiliti™ brand is a suite of solutions launched in Hong Kong, comprising of two lenses – an overnight orthokeratology (ortho-k) therapeutic lens and a daily disposable, soft therapeutic lens, both designed with the purpose of slowing myopia progression in children – and SeeAbiliti™, a personalised digital app that provides myopia-related lifestyle guidance
HONG KONG, 27 April 2022 – Johnson & Johnson Vision†, a global leader in eye health and part of Johnson & Johnson MedTech††, today announced the launch of the Abiliti™ brand in Hong Kong – a powerful new comprehensive approach to myopia management designed to help parents control their children's myopia progression. The first-of-its-kind solution suite comprising of an overnight ortho-k therapeutic lens, a 1-day soft therapeutic lens, and the SeeAbiliti™ digital app, a personalised digital companion, provides safe options to help reduce the risk of myopia-related eye health threats and support better vision management.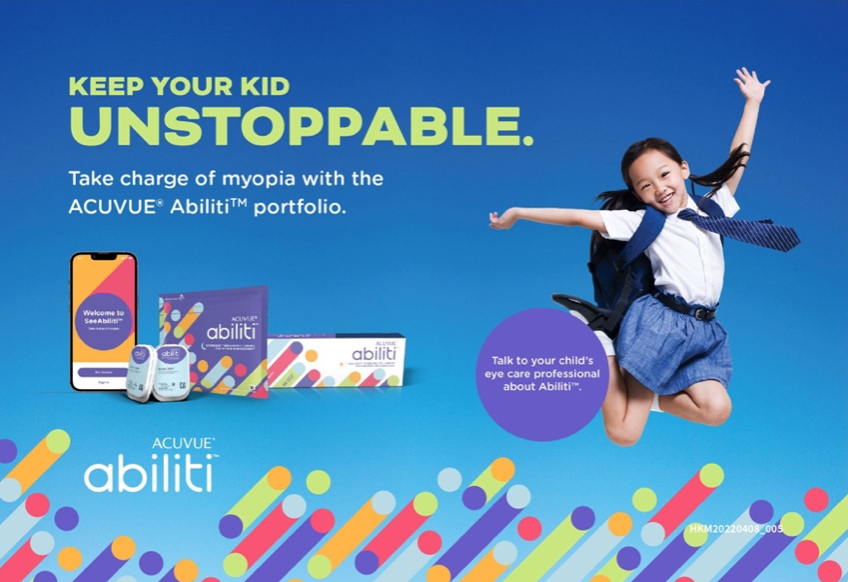 The launch of the Abiliti™ brand marks a significant milestone in Johnson & Johnson Vision's commitment to change the trajectory of myopia, a chronic and progressive disease that poses the biggest eye health threat of the 21st century. With an incidence rate of 88%, Hong Kong is among cities with the highest prevalence of myopia worldwide1. Children are amongst the most vulnerable, with approximately 61.5% of children in Hong Kong affected by myopia at the age of 122. COVID-19 has exacerbated this situation even further as lockdown measures and school suspensions have necessitated virtual learning, causing children to spend more time indoors and less time outdoors. These two behaviours have long been associated with the development and progression of myopia, and continued exposure to digital screens is expected to have far-reaching consequences. A recent study by the Chinese University of Hong Kong's Faculty of Medicine (CU Medicine) has revealed an alarming 2.5-fold increase in myopia incidence in school children during the pandemic.3
Myopia is sometimes called 'nearsightedness' but it is much more. It is a chronic and progressive disease characterised by excessive eye elongation and risks of associated sight-threatening complications. Half of the world's population is projected to be myopic by 2050 with nearly one billion people expected to have high myopia.4 Young children who develop myopia before the age of 12 are more at risk of developing high myopia,5 leading to increased risks of sight-threatening diseases such as myopic macular degeneration6 and retinal detachment.7 Myopia also progresses more quickly in children,8 which is why parents need to intervene early to manage their children's myopia and protect their vision and eye health. However, despite myopia being globally acknowledged as a growing epidemic that can lead to irreversible vision loss later in life, many parents in Hong Kong are unaware of its implications on their children's long-term eye health and abilities.
Recognising the impact of myopia and the importance of myopia management, Johnson & Johnson Vision has launched a range of science-backed myopia management solutions as part of its Abiliti™ brand to address the growing myopia epidemic in children and provide an innovative solution designed to fit seamlessly into the lifestyle of parents and children. New technology has been shown to slow the progression of myopia which may reduce the risk of long-term health implications when utilised in young patients aged six to 12.
The holistic suite of products and solutions launched in Hong Kong under the Abiliti™ brand include:
ACUVUE® AbilitiTM Overnight Therapeutic Lens for Myopia Management: Specifically designed and fitted to match a patient's eye based on its unique corneal shape to temporarily reshape the cornea, this ortho-K therapeutic lens with the CE mark for myopia control is worn overnight, allowing patients to see clearly without spectacles the next day.
ACUVUE® AbilitiTM 1-Day Soft Therapeutic Lens for Myopia Management: Featuring the revolutionary RingBoost™ technology, this soft contact lens is the first and only daily disposable silicone hydrogel soft contact lens designed specifically for slowing the progression of myopia in children while correcting their vision.
The SeeAbiliti™ digital app: A personalised digital companion that provides myopia-related lifestyle guidance, such as increasing time spent outdoors, addressing parents and their kids' needs as they grow.
Both Abiliti™ Overnight lenses and Abiliti™ 1-Day lenses offer safe, effective treatment options targeted at slowing myopia progression. Patients and parents should work with their eye care professional to decide which treatment option is best based on clinical and lifestyle considerations.
"Childhood myopia is a growing epidemic that threatens the vision of our future generations – and this issue is especially acute in a city like Hong Kong where prolonged exposure to digital screens in close proximity due to space constraints has had an unprecedented impact on children's eye health," said Dawn Lim, Business Unit Director, Vision Care, Hong Kong, Johnson & Johnson Vision. "As a trusted global brand in eye health with a legacy of innovation, Johnson & Johnson Vision is committed to reshaping the future of myopia management. We have invested decades of research to develop scientifically proven solutions that address the prevalence and progression of myopia, and we hope that with the launch of our new Abiliti™ brand in Hong Kong, we will be able to empower parents and eye care professionals with a safe and proactive approach to help manage children's myopia."
The Abiliti™ portfolio is a growing suite of solutions for young myopic patients, parents, and eye care professionals across three main pillars:
See Your Abiliti™: A suite of therapeutic products for young patients with myopia and their parents, including the two types of Abiliti™ therapeutic lenses and the SeeAbiliti™ app.
Master Your Abiliti™: Unparalleled support to eye care providers through personalised professional training and centers of clinical excellence, including a lens-fitting software called FitAbiliti™.
Share Your Abiliti™: Increased access to eye care through an ongoing partnership with Sight For Kids®, providing free comprehensive eye exams for children in need with each annual purchase of an Abiliti™ product.
Through the Sight For Kids® initiative, Johnson & Johnson Vision aims to give back to global communities that the company operates in, while addressing the growing epidemic and combating the progression of myopia in Hong Kong. Expanding on the launch, Johnson & Johnson Vision will also organise virtual trade shows in April to encourage eye care practitioners in Hong Kong to take on a more influential role in the fight against children's myopia.
Join Johnson & Johnson Vision and change the trajectory of the global myopia epidemic. Give your children clearer vision today, for better eye health tomorrow. Download the SeeAbiliti™ app and go to any of Johnson & Johnson Vision's partner optometrists on this network for a comprehensive eye health check and find out more about how Abiliti™ can keep your kids unstoppable!
For more information, visit https://www.seeyourabiliti.com/hk/en/.
-ENDS-
About Johnson & Johnson Vision
At Johnson & Johnson Vision†, part of Johnson & Johnson MedTech††, we have a bold ambition: to change the trajectory of eye health worldwide. Through our operating companies, we deliver innovation that enables eye care professionals to create better
outcomes for patients throughout their lives, with products and technologies that address unmet needs including refractive error, cataracts, and dry eye. In communities with greatest need, we work in collaboration to expand access to quality eye care, and we are committed to helping people see better, connect better, live better. Visit us at jjvision.com, follow @JNJVision on Twitter, Johnson & Johnson Vision on LinkedIn, and @JNJVision on Facebook.
About Johnson & Johnson MedTech
At Johnson & Johnson MedTech, we unleash diverse healthcare expertise, purposeful technology, and a passion for people to transform the future of medical intervention and empower everyone to live their best life possible. For more than a century, we have driven breakthrough scientific innovation to address unmet needs and reimagine health. In surgery, orthopaedics, vision, and interventional solutions, we continue to help save lives and create a future where healthcare solutions are smarter, less invasive, and more personalized.
About Abiliti™ 1-Day Soft Therapeutic Lenses
Abiliti™ 1-Day Soft Therapeutic Lenses for Myopia Management are intended for daily wear, worn on a daily disposable basis, for the correction of myopia (while the lenses are worn) and may slow myopia progression in children. The contact lenses are intended to be used by children who, at the initiation of treatment, are 7 to 12 years old, with myopia between -0.75D and -4.50D and 1.00D or less astigmatism, with non-diseased eyes and are symptomatic with regard to a need for distance vision correction. Slowing axial elongation and myopia progression was demonstrated in a clinical study of children between 7 and 12 years of age with a required lens wear time of, at a minimum, 8 hours per day and 5 days per week.9
About Abiliti ™ Overnight Therapeutic Lenses
Abiliti™ Overnight Therapeutic Lenses are CE-marked overnight ortho-K therapeutic lens that is scientifically proven to reduce the axial elongation by 0.28mm on average over 2 years.*10,11,12,13 Worn overnight, these lenses temporarily reshape the cornea,14,15,16,17 and allow patients to see clearly the next day after being worn overnight.**18 Each lens is specifically designed to fit the unique shape of each patient's unique corneal shape and prescription.19 Abiliti™ Overnight lenses can help manage the progression of your child's myopia.
©Johnson & Johnson Vision Care Inc., 2022. All rights reserved.
*Compared to single vision spectacles. **Reducing refractive error up to 4.00D and up to 2.50D of astigmatism
†Johnson & Johnson Vision represents the products and services of Johnson & Johnson Surgical Vision, Inc., Johnson & Johnson Vision Care, Inc., and the affiliates of both.
††Johnson & Johnson MedTech comprises the surgery, orthopaedics, vision and interventional solutions businesses within Johnson & Johnson's MedTech segment.
1 1. Wolfram et al 2014 Br J Ophthalmol; 2. Lam et al OVS 2004 3. Matsumara & Hirai, Surv Ophthalmol 1999. 4. Lee et al IOVS 2013; 5. Jung et al IOVS 2012 6. Koh et al OphEpidemiol 2014 7. Rahi et al Ophthalmol 2011 8. Vitale et al, Arch Ophthalmol 2008 9. JJV on file, combined data taken from multiple studies.
2 Lam CS, Lam CH, Cheng SC, Chan LY. Prevalence of myopia among Hong Kong Chinese schoolchildren: changes over two decades. Ophthalmic Physiol Opt 2012;32:17-24.
3 Faculty of Medicine, The Chinese University of Hong Kong, August 2021, Hong Kong Children Vision Screening and Education Centre.
4 Holden BA, Fricke TR, Wilson DA, Jong M, Naidoo K, et al. Global Prevalence of Myopia and High Myopia and Temporal Trends from 2000 to 2050. Ophthalmol. 2016;123(5):1036-1042. doi: 10.1016/j.ophtha.2016.01.006.
5 Hu Y et al. Association of Age at Myopia Onset With Risk of High Myopia in Adulthood in a 12-Year Follow-up of a Chinese Cohort. JAMA Ophthalmol. 2020;138:1–6.
6 Ohno-Matsui K, Lai TY, Lai CC, Cheung CM. Updates of Pathologic Myopia. Prog Retin Eye Res 2016;52:156-87.
7 Mitry D, Charteris DG, Fleck BW et al. The Epidemiology of Rhegmatogenous Retinal Detachment: Geographical Variation and Clinical Associations. Br J Ophthalmol 2010;94:678-84.
8 Chua SY et al. Age of Onset of Myopia Predicts Risk of High Myopia in Later Childhood in Myopic Singapore Children. Opthal Physiol Opt 2016;36:388-94.
9 Compared to single vision contact lenses after 6 months wear.
10 Cho P, Cheung SW. Retardation of myopia in Orthokeratology (ROMIO) study: a 2-year randomized clinical trial. Invest Ophthalmol Vis Sci [Internet]. 2012/09/13. 2012;53(11):7077– 85.
11 Santodomingo-Rubido J, Villa-Collar C, Gilmartin B, Gutiérrez- Ortega R. Myopia control with orthokeratology contact lens in Spain: Refractive and biometric changes. Invest Ophthalmol Vis Sci. 2012;53(8).
12 Chen C, Cheung SW, Cho P. Myopia control using toric orthokeratology (TO-SEE study). Invest Ophthalmol Vis Sci [Internet]. 2013/09/05. 2013;54(10):6510–7.
13 Walline JJ, Robboy MW, Hilmantel G, Tarver ME, Afshari NA, Dhaliwal DK, Morse CL, Quinn CJ, Repka MX, Eydelman MB. Food and Drug Administration, American Academy of Ophthalmology, American Academy of Optometry, American Association for Pediatric Ophthalmology and Strabismus, American Optometric Association, American Society of Cataract and Refractive Surgery, and Contact Lens Association of Ophthalmologists Co- Sponsored Workshop: Controlling the Progression of Myopia: Contact Lens and Future Medical Devices. Eye Contact Lens.
14 Santodomingo-Rubido J, Villa-Collar C, Gilmartin B, Gutiérrez- Ortega R. Short-term changes in ocular biometry and refraction after discontinuation of long-term orthokeratology. Eye Contact Lens. 2014;40(2).
15 Cho P, Cheung SW. Discontinuation of orthokeratology on eyeball elongation (DOEE). Cont Lens Anterior Eye [Internet]. 2017/01/01. 2017;40(2):82–7.
16 Lau JK, Vincent SJ, Cheung SW, Cho P. The influence of orthokeratology compression factor on ocular higher-order aberrations. Clin Exp Optom. 2020 Jan; 103(1):123-128.
17 Wan K, Lau JK kit, Cheung SW, Cho P. Refractive and corneal responses of young myopic children to short-term orthokeratology treatment with different compression factors. Contact Lens Anterior Eye. 2020;43(1):65-72.
18 Data on File 2021. Menicon CE technical file.
19 Data on File 2021 Menicon Design History file.
HKM20220408_001
PP2022ABLM4128