ACUVUE® LensAssist Provides Reminder of Importance of Contact Lens Safety and Hygiene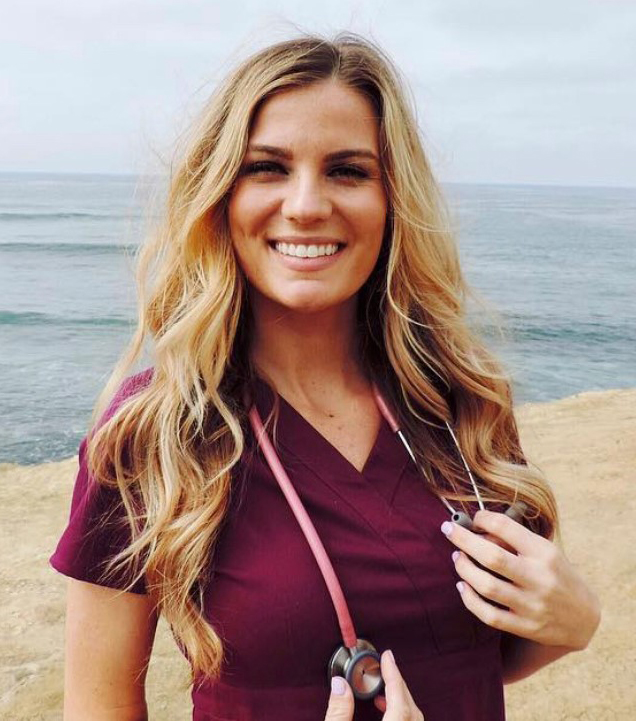 Ashlyn Kettler
Like many frontline workers, the last several months during the COVID-19 pandemic have been especially busy for Ashlyn Kettler, a neo-natal intensive care nurse at a children's hospital. Working in the medical field, she was already washing her hands often, but as coronavirus guidelines continued to evolve she realized how frequently she was adjusting her glasses, and therefore touching her face throughout the workday. It's something that, according to the American Journal for Infection Control, we do 23 times an hour on average.1
That's when the 26-year-old nurse made an appointment with an eye doctor, and asked about contact lenses so she wouldn't have to touch her face as often. Her doctor prescribed ACUVUE® OASYS 1-Day contact lenses, and Ashlyn started wearing them this past spring. "They were so comfortable, I forgot they were in a lot of the time," Kettler said.
One exceptionally long and tiring day towards the very beginning of her contact lens journey, Ashlyn found herself searching for the best way to remove her lenses. "I was exhausted… I just needed to get them out," she said. Ashlyn shared her issue with her roommate, who told her about
ACUVUE® LensAssist. "She told me that it's a free online resource where I could get live advice from eye care experts and watch videos, so that's what we did. We both sat down and watched a few videos together until I felt confident I had enough tips to try again and remove the lenses successfully."
Ashlyn says tips she received from those videos about lubricating her eyes with the saline solution and approved eye drops her doctor suggested helped her to remove the daily lenses safely and effortlessly. "I wish I had known about it before," she continued. "It's definitely a great resource, particularly in non-emergent times or if your doctor isn't available. I could see the live chat being really helpful, especially for new wearers."
Ashlyn's story seems especially poignant at a time where safety and hygiene are top of mind. This week, August 17 – 21, 2020, is the Centers for Disease Control and Prevention's (CDC), seventh annual Contact Lens Health Week. This year's campaign focuses on the importance of healthy contact lens hygiene practices in protecting against serious eye infections and other illnesses. Johnson & Johnson Vision* is proud to be one of the CDC's partners promoting this important message.
"Washing your hands prior to handling your contact lenses has always been a critical step but now during our current pandemic this step has taken on a much higher priority. Handwashing is an essential first step in the fight against eye infections and COVID-19 transmission. We also know that comfortable lens wearers may be less prone to reach up and rub or touch the area around their eyes, so maintaining hygiene and following your eye doctors advise is more important than ever" said Dr. Kurt Moody, Director of North America Professional Education at Johnson & Johnson Vision. "Free tools like ACUVUE® LensAssist are also there to help contact lens wearers [regardless of what brand they use] with everything from proper lens wear and care to safe insertion and removal, just like Ashlyn experienced."
New wearer dropout is 30% in the United States, with a fourth of patients reporting they never learned proper contact lens insertion and removal2, so tools like ACUVUE® LensAssist provide help to the industry while protecting staff and patients through virtual training that promotes safe, hygienic and successful contact lens use.
For more information on Contact Lens Health Week, visit cdc.gov/contactlenses or scan social media for #ProtectYourEyes. You can read more about Johnson & Johnson Vision's COVID-19 response efforts at jjvision.com/coronavirus.com.
*Johnson & Johnson Vision is comprised of Johnson & Johnson Vision Care, Inc. and Johnson & Johnson Surgical Vision, Inc.
Important information for contact lens wearers
ACUVUE® Brand Contact Lenses are available by prescription only for vision correction. An eye care professional will determine whether contact lenses are right for you. Although rare, serious eye problems can develop while wearing contact lenses. To help avoid these problems, follow the wear and replacement schedule and the lens care instructions provided by your eye doctor. Do not wear contact lenses if you have an eye infection, or experience eye discomfort, excessive tearing, vision changes, redness or other eye problems. If one of these conditions occurs, remove the lens and contact your eye doctor immediately. For more information on proper wear, care and safety, talk to your eye care professional, call 1-800-843-2020 or visit www.acuvue.com.
Align left
Wide
1Y.E.A. Kwok, J. Gralton, M. McLaws. 2015. "Face touching: a frequent habit that has implications for hand hygiene." American Journal of Infection Control.
22017 US Path to Purchase Study
PP2020AO1D5799
Align left
Wide